Here's your Indie Release Dispatch for November 10, 2023.
Written and hosted by Steve Heller
---
Hello everyone! This week has been fraught with massive proejcts at the day job. So unfortunately there will be no podcast in the post this week. I will be recording that and releasing it tomorrow, so if you prefer listening/watching, keep an eye on the podcast feed, or our YouTube channel.
Anyway, lets get into it.
What came out this week?
Junction
Developer: hosomeowa
Itch.io page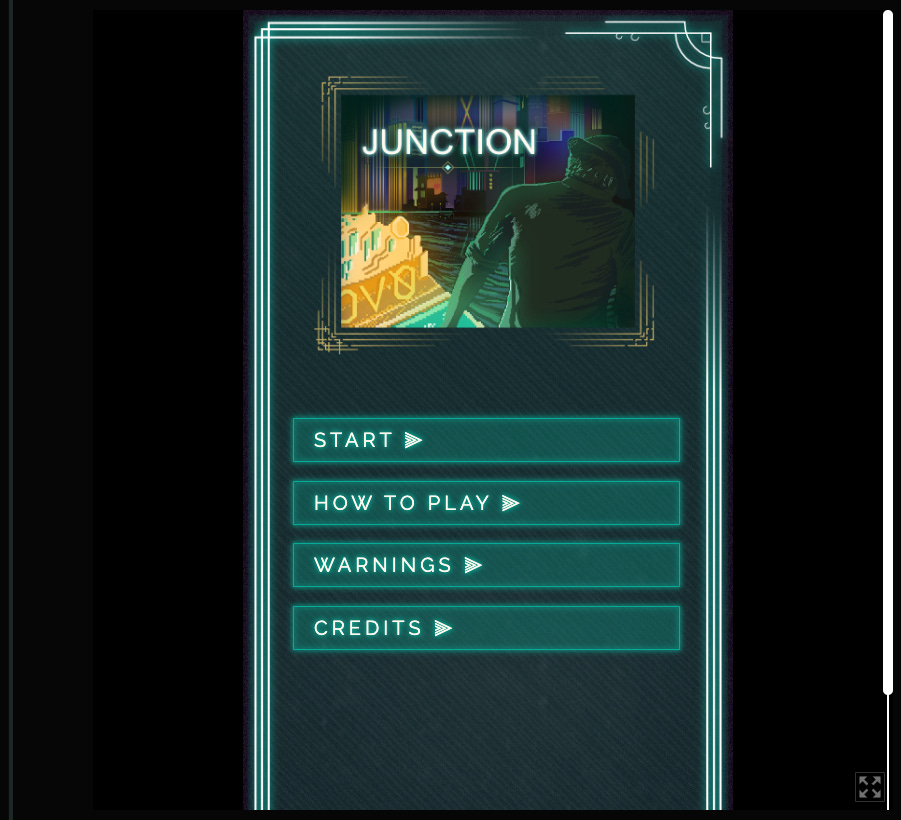 While the whole world will sing from the mountain tops that Hades is the best Supergiant Games release, there are dozens of us who are still pining after their sophomore release, Transistor.
Seems like hosomeowa is one of those dozens like me, who wanted to exist just a little longer in that world. That's why they put together Junction, a fan project that emerged from a series of writing exercises that began with a simple premise:
It's 2013, and Supergiant Games is hard at work developing Transistor. But a game with a similar story beats it to market! Now the stakeholders want a new story. How do you craft a new story to fit a game mid-development?
The result is a 45 minute long text adventure, complete with original music, multiple divergent paths, and a thrilling story to uncover. The best part of all this - it's completely free.
Full disclosure here, hosomeowa is a friend of mine, but their writing is incredible and I am genuinely very, very excited to play this on the weekend, and you should be too!
Roboquest
Developer: RyseUp Studios
Steam rating: Very Positive
Store page
FPS Roguelikes are still fairly untapped, but RyseUp Studios has built a positive following for their comic book art style inspired Roboquest. This frenetic procedurally generated run-based shooter has been doing the work in Early Access for a while now, and after a slew of major updates, has finally arrived at the version 1.0 release this week. Featuring a bunch of player classes, and persistent upgrades for your basecamp, this colorful shooter has a lot of depth based around its movement, and the best thing is that it can be played solo, or with a friend in co-op. John from our staff has mentioned a few times that this one was worth checking out. I guess now is the time.
The Invincible
Developer: Starward Industries
Steam rating: Very Positive
Store page
It is not often that we get adaptations of novels in video games, but this new "walking simulator" from Starward Industries is pulling from the novel of the same name written by Stanisław Lem published in 1964. Continuing the trend of adding ~punk to the end of words, this atompunk hard sci-fi tale explores the philosophical conundrums of humanity exploring the stars, as you search for your missing crew on the surface of Regis III. Unlike Stafield, the barren lands in The Invincible make narrative sense, but that certainly won't be for everyone. I am currently reviewing this as we speak and while I can definitely see its appeal, as someone who loves the genre, I am not sure I would recommend it full heartedly. I will say that I am about two hours from the end, and my feelings may change, but if this is of interest to you, I would say watch some videos, or hold off for our review later this week.
Salt and Sacrifice
Developer: Devoured Studios / Ska Studios
Steam rating: Mostly Positive
Store page
The sequel to 2016's highly lauded Salt and Sanctuary is here, serving up more of its punishing Souls-inspired hardcore combat, but on a 2D pixel art plane. I never played that first game, but I heard nothing but amazing things from my masochistic friends who praised its slow, but deliberate combat. It seems like Salt and Sacrifice offers more of the same, but this time you can play the entire game with a friend, and an online PvP mode that sounds kinda intriguing. If you like Souls-likes or Metroidvanias, this could be worth picking up, maybe even with the original game in what Steam is listing as the "Bundle of Salt".
Racine
Developer: Dark Root Gardeners
Steam rating: Very Positive
Store page
Remember when Auto Chess first hit the scene? It felt like overnight everyone was an expert in DOTA or League of Legends lore, followed by cute pet ownership experts, and then... silence. Dark Root Gardeners wants to take the languishing genre in a new direction with Racine, which is an Autobattler Strategy Roguelike that combines the always-on nature of an Autobattler with strategic opportunities played our with cards from a deck. Buff your hero to vanquish your foes, and survive the onslaught for as long as you can.
Interestingly this one is published by Goblinz Publishing, the same group that published Beneath Oresa which Blue reviewed last month, and had some nice things to say about it. I'm personally not a fan of autobattlers, but I do love me some deckbuilding action, so this is on my radar.
Here's a thing I did this week
Nothing. I did nothing. No gaming. No writing. This is the first creative output I really have had this week. But good news is that I am going on holiday soon, and I hopefully will come back and work will have slowed down, and I can then really get to work on some cool fun projects on the horizon. So stay tuned!
Keep well, and let me know what you are playing this weekend. I will be finishing up The Invincible, and putting together a review for the site. At least, that is my plan!
Steve